The old saying "you get what you pay for" can hold true for contractors, home improvements and irrigation companies alike. It's important to find good value when looking for an irrigation contractor, and value takes into consideration the worth of what you are receiving for the cost. In order to get the cheapest price possible, you may end up sacrificing quality, experience and service; which could potentially end up costing more in the long run. Competitive pricing is important, but there are many things you should consider in addition to price.
In addition to comparing cost estimates, and side-by-side details of what that quote covers; here are some things to look for when evaluating irrigation contractors:
How long have they been in business?
Are they licensed to work on irrigation systems in your town?
Do they carry the necessary insurance?
What is their Better Business Bureau rating and how is their record? Are they a BBB Accredited Business?
How is their online reputation? Do they have good reviews and good word of mouth?
Can they provide references?
How much experience do the service technicians have?
Do they install, service and repair systems? Do they work with all major brands of irrigation equipment?
Do you get a knowledgeable staff member on the phone, or do you always have to leave a message?
How long do you have to wait to get an appointment?
Do they offer business hours that fit within your schedule (i.e. are the Saturday hours)?
What type of warranty do they offer?
Once you have done your research and narrowed your choice down to a few Long Island irrigation specialists, you may be ready to call and request an estimate for your sprinkler installation. Estimates should be done in good faith, with no charge or obligation. There are many factors you will want to look for when you invite a contractor to your home to evaluate and provide an estimate. When comparing experiences between contractors while providing estimates for a new sprinkler system installation, look for these things:
Did your estimator show up on time?
Did the estimator do a complete custom design plan for your irrigation system, showing where and how your sprinkler system will cover your lawn's watering needs?
Did they walk the property with you and show you different options for ways to water your flowers, shrubs and lawn before creating the custom design?
A knowledgeable estimator will recognize areas on your property that may need special attention. Examples include keeping water out of children's' play areas, creating separate zones for shady areas needing less water or installing a customized drip system for your box garden, vegetable garden or rose garden.
Did they explain the options for irrigation controllers and the many different features that are available?
When the estimator is finished, you should have a complete understanding of how your new irrigation system will be designed, where zones will be located and how it will work.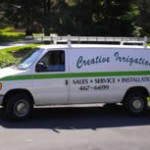 At Creative Irrigation, we have been serving Long Island for over 30 years and are very proud of the reputation we have built. We have life-long clients throughout Long Island that eagerly recommend us to friends and family, and we think there is no better form of flattery! We are licensed and insured, and a BBB Accredited Business with an A+ rating. We pride ourselves on offering free custom estimates that include a thorough evaluation of the property, taking into consideration the needs of both the homeowner and the landscaping. At each installation estimate, we provide a custom designed irrigation system plan. To request a free estimate from our team of highly experienced estimators, contact us today.